Presentation Bed&Breakfast Castle Loire Luxury Treehouses SPA DOMAINE DES GRANDS CÈDRES - Cordelle 42123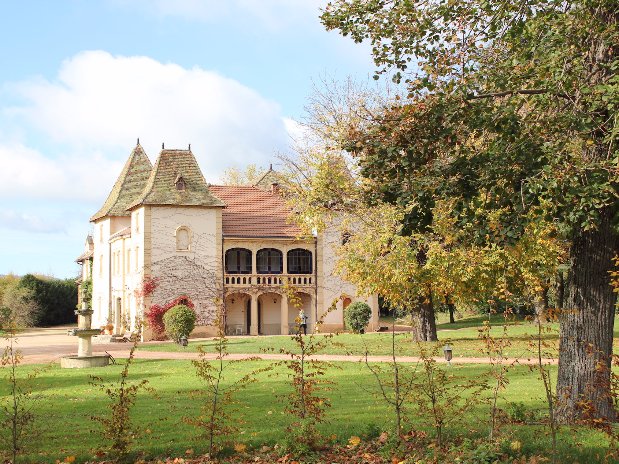 DOMAINE DES GRANDS CÈDRES
The time, over here, stops for a while to fully enjoy this splendid place that becomes yours the time of a stay…
Le "Domaine des Grands Cèdres" is a magical place, filled with calm and serenity…It offers a fairytale-like view of the Monts de la Madeleine and the Loire's river. You will be able to stay in one of the rooms/suites of the castle, or you can choose one of the 3 luxurious cabins among the splendid blue cedars.
You can also book the location to welcome you own guests in " L'Orangerie " - fully equipped for receptions. Conference rooms are available for you to host team workshops and seminars in a relaxing pastoral setting.
We are located only 15 minutes away from Roanne (42), 50 miles away from Lyon (69) and Saint Etienne (42), 65 miles from Clermont-Ferrond (63) and 12 miles from the TransEuropean Highway (A89) in Saint-Germain-Laval.
---
Acquired in 1991, the estate was continuously renovated through the years. Since 1991, a great number of friends came here to spend good time at the castle. In 2011, Thierry & Marie decided to open up their beloved estate by creating a hosting place that guests would call "home". It is with great pleasure that they will welcome you for a night, a party, a business seminar or a stay that will make the time stand still for a while...
Number of rooms : 2 Rooms 2 Suites and 4 luxurious cabins among the blue cedars.

Timing


Ouvert toute l'année


Spoken languages


Payment methods

Address:
Château de Changy
42123 CORDELLE
FRANCE
Swimming pool

Hiking

Lake
DOMAINE DES GRANDS CÈDRES
Address: Château de Changy 42123 CORDELLE FRANCE
Presentation Bed&Breakfast Castle Loire Luxury Treehouses SPA DOMAINE DES GRANDS CÈDRES - Cordelle 42123